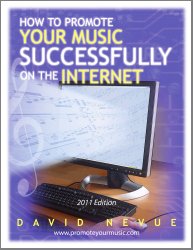 ---
Order Options


Credit Card

or

PayPal


Both options will be made available when you click on the links below.

---
PDF Version
(*PDF w/ clickable links!)
Now Available for $19.95!
Buy Now | View Cart

Print Version
Available Only
via Amazon.com

How to Promote Your Music Successfully on the Internet
Internet Music Promotion 101 by David Nevue
---
2011 Edition (Is this Current? Read This!)
$19.95 - Buy Now and Download Instantly!
in PDF Format. 8.5 x11, 208 Pages.

Want a Print Edition? Print edition are now available on Amazon.com.

Do you have any questions about this book or the order process before you buy? We're glad to help! Just Ask!

A Message from the Author...
My name is David Nevue. I am the founder of the Music Biz Academy (this web site) and author of the book, How to Promote Your Music Successfully on the Internet.

Let me come straight to the point. The Internet is an incredible promotional tool for independent musicians. You can get radio play, grow a fan base, create a distribution channel, manufacture and sell CDs, downloads and streams of your music all online. You can use the Internet to create an amazing amount of exposure for your music. Wouldn't it be great if literally thousands of people heard your music every single day? What if you could sell 50, 100 or even 200 CDs every month? How about selling thousands of downloads of your music each month via iTunes, Amazon, Spotify and dozens of other online retailers? How about streaming your music to tens of thousands... maybe even millions of people? Guess what? It doesn't take a brain-surgeon to make it happen, but it does take a lot of hard work – and you need to know what you're doing.

Therein lies the problem. Most musicians just have no idea where to start when it comes to music promotion on the Internet. Some get as far as putting up a web site, but stop there. They aren't sure what the next step should be. That's where I can help.

Who am I? I'm an independent musician just like you, with one difference: In 2016, I used the Internet to generate over $250,000 in income just from my music. And that doesn't include income earned from concert tours, performances and fees (all of which I booked myself online) or music licensing. Hard to believe, isn't it? But it's true. Today I'm doing the "music business" full-time from my home in Eugene, Oregon. I now invest my time developing my music career rather than spending 40-60 hours a week working for someone else. I'm truly an independent musician.

My intent with this book is to give you the information you need to begin promoting, selling, and distributing your own music online. I'll provide you with proven ideas you can put to use immediately. It doesn't take a ton of money to get started either – that's another great benefit of living in this digital age.

Simply put, in my book, How to Promote Your Music Successfully on the Internet, I'll take you step by step through the same marketing strategies I've used over the last thirty years (since 1995) to promote my own music and run my music business on my own terms.

Is the book current? The 2011 edition of the book is the most recent edition (and probably the final edition) that I will release. Lots of folks ask me... "it's years later, is the book still current?" For all practical, marketing purposes, the answer is YES! While web sites come and go, marketing strategies don't change that much. What worked six years ago, in terms of pure marketing, still works today. And while the Facebook of 2011 looks nothing like the Facebook of today, Facebook is still Facebook. Social networking and marketing strategies haven't changed and you apply them much the same way. Some of the details in the book, when it comes to web site specifics, are certainly different, but 90% of the book, which deals with marketing strategies, is as applicable today as it was in 2011. But because the book is older now, I have reduced the price of it greatly! The original price of the book was $34.95 for the printed version and $24.95 for the PDF. I am NOW offering the book for just $19.95, your choice of the printed version (shipped to you) or the PDF version (instant download!)

$19.95 - Buy Now and Download Instantly!
in PDF Format. 8.5 x11, 208 Pages.

Click here for book reviews from my readers!

Cutting Through the Hype...
Let's cut through the hype. If you want to be successful promoting and distributing your music online, it's going to take time and hard work. Like anything else of real value, you get out of it what you put into it. But here's the cool thing: your music career will be in your hands. Once you have the information you need, your future will not be dependent on somebody else doing their job, it will be dependent on you doing yours. How refreshing would that be? You career won't be at the mercy of a record label, some A&R person, or an agent who may or may not have your best interest in mind. If your music is quality music, deserving of an audience, you can find that audience online no matter what the genre of your music is or even where you're located.

You need knowledge, pure and simple. In How to Promote Your Music Successfully on the Internet I'll give you good, practical information you can put to use right away to promote, distribute and sell your music online. I will teach you, in a straightforward way, how to get your music out there without wasting your time or money on hogwash.

Let Me Tell You What This Book is NOT...
This book is NOT full of advertisements for other services. I really hate it when you buy a book it turns out to be a 100 page long pitch to get you to spend more money on other products or "consulting" services! This book is all substance, and contains no hot air!

This book is NOT sparse. Yet another pet peeve of mine is when you purchase an ebook and the pages have 2 inch margins and LARGE type to make the book look bigger than it really is. The PDF version of How to Promote Your Music Successfully on the Internet is 208 pages long, 8.5 x 11 with 3/4 inch margins and 11 point type. In other words, I make the most of the space on each page. The book is easy to read, but detailed enough (without being over-technical) to help you develop a serious plan for promoting your music online.

This book is NOT written by some guy who's trying to make a buck off of your hopes and dreams. I'm a musician, just like you, and I wrote this book for a reason: to help other independent musicians achieve the same success I have. It sounds corny, but it's true.

This book is NOT overpriced. If anything, it's underpriced. As a working musician myself, I understand finances are tight, plus I know you have other priorities. One of my primary concerns for my customers is to keep my book affordable. The PDF version of my book sells for just $19.95. You'll be hard pressed to find a quality ebook anywhere that sells for less. I've put literally years of research into this book, and I guarantee you'll find it to be well worth the price. If you don't agree, I'll refund your money.

This book is NOT written by someone with lots of "theory," but no experience. I've lived this book! Everything in it, every idea, suggestion, and strategy within its pages comes from my own life experience. The marketing strategies in my book are tried, tested, and true. The are the very same strategies I use to promote my own music online.

Click here for reader reviews of the book!

I've Been Doing This a LONG Time....
I started marketing my music on the Internet way back in 1995! Like most musicians still do today, I started out by putting up a web page with some sound samples (*.wav files in those days) and just hoped somebody would find me. My first year online, I sold just two CDs. I wasn't satisfied with that at all! So I began experimenting with different marketing strategies. After some failures and a few successes, I began to see more CD sales. I knew I was on to something when I began selling four or five CDs a week! That gave me the idea to write this book, the first edition of which came out in November of 1997. Since them, I've updated this book probably 3 dozen times!

1995 was a long time ago, and since then I've continued to build onto my success. Over the last two decades, I've expanded my online music business to include not only sales of my CDs and music downloads, but also music licenses, sheet music (transcriptions of my own works), books (like this one), music subscriptions and advertising. Plus, I'm making a TON of money on royalties from Internet radio! Needless to say, the income generated through these music-related projects has made a huge impact on my ability to both promote my music and to create more music to sell to fans. My discography now includes fourteen albums! I could never have accomplished that without the additional income generated by my web site!

Full-Time Musician Status!
In November of 2001, I finally achieved a longtime dream: I quit my day job at Symantec Corporation (the makers of Norton Antivirus and Norton Internet Security) to work in the online music business full-time. Now I have more time to work on my music and spend with my family. Life has never been better or more fulfilling.

Click here for reader reviews!

Use the Internet to Advance Your Music Career...
YES, you can use the Internet to create a LOT of exposure for your music. YES, you can use the Internet to bring in additional income to invest right back into your music business. But can the Internet actually advance your career? The answer, in short, is also, YES!

Use the Internet to Get more Gigs...
Not every musician wants to tour, but if you do, the book includes an entire chapter on using the Internet to book and manage your own tour. I NEVER toured until a few years ago, but the demand from my fans for live performance provided opportunities for me to start doing so. Now I travel - and make a profit - from concert performances, too. I do all my own booking through contacts I make online, and it's not hard to do. I will show you how.

Just Think About It...
Thousands of people could be hearing your music every single day. That's what I've been able to achieve. In 2003, I started up my own internet radio station and that currently generates over a 1.5 Million listening hours per month. That equates to over 50,000 people a day hearing my music! That translates into sales! And that's just one, single, web site. In this book, I will show you exactly how I started up and promoted my own Internet radio station so you can do the same if you like.

Hundreds of people could be buying your CDs and downloads. Wouldn't it be nice to sell 5-10 CDs a week from your web site? What about a 50-100 per month? How about 200-300 CDs every month plus thousands of digital downloads? What's that? You say it can't be done? In December 2013, I sold almost 800 CDs in one single month via the Internet. This despite the great decline in overall CD sales these days (most experts say the CD is dead. It may be dying, but it's not dead yet!). In addition to that, I made over $7,900 in digital music sales that same month. That's over $13,000 in profit in a single month just from sales of CDs and downloads. Success at that level takes a lot of work, but it is possible. I've done it, and I'm not alone.

Imagine all the contacts you'll make when your music really starts getting out there. On a regular basis I am contacted by independent filmmakers and photographers wanting to use my music (which they discovered online) for their film and DVD projects. I am approached all the time about gig opportunities all across the U.S. from people who have discovered my music online. Opportunities abound!

Think about how great it will feel when your fans start communicating with you each and every day to tell you how much they love your music. Just look at the email I've received from people at my own personal web site. It's amazing the impact your music can have on people if they just have the opportunity to hear it! Best of all, using the Internet, you have the opportunity to develop important relationships with fans from all over the world. These fans can become an extension of you, and many of them will help you get the word out about your music!

Who Needs a Record Deal?
Many musicians look desperately to be signed by a major record label. Perhaps you, yourself have aspirations of "making it big" in the music business. But let me tell you something. You don't need a major label deal to have a successful music career. If you are seeking fame in the music business, then yes, you may need the backing of big money. But, if you're just wanting to do music full-time and be the quintessential artist, that's something you can do all on your own, and the Internet can help you reach that goal. I'm living proof of that.

I want to teach other musicians to use the Internet the way I have. Not only to bring in more income, but to gain significant exposure for your music. In How to Promote Your Music Successfully on the Internet, I will show you how to target an audience most likely to buy your music. I will show you how to convert visitors to your web site into sales, and how to increase your fan base. I will show you how to sell more CDs and downloads, and how and where to distribute your music online (both digital and retail). I will also tell you what not to waste your time and money on. Basically, I'm going to use this book to pass on pretty much everything I know about marketing music on the Internet. Whatever your end goal is, if it involves using the Internet to promote your music, this book will help you do that.

If you want to create massive exposure for your music online, sell a lot more CDs and downloads and use the Internet to both generate income and advance your music career - this book is for you. In How to Promote Your Music Successfully on the Internet, I takes you step-by-step through the methods I have used to find a successful music career online. Whether you are just getting started online, or an experienced marketer, you will benefit from my experience.

And if you're not sure you can trust me, or you fear I have a hidden agenda, just read out the many testimonials from satisfied readers! This book delivers the goods.

There is Just No Comparison....
There are two or three competing books out there about marketing music on the Internet, but only one by an unsigned, indie musician like yourself who actually understands where you're coming from. This is the only book you need to find success selling your music online. To quote one of our readers, other books on this subject "dull in comparison" to this one.
"I've read (several popular Internet Music Marketing books named, but excluded here out of respect for the authors) and more prior to this purchase. They all dull in comparison. I got more valuable info in your book than all others combined." - Jeffrey Sanders

"A million thanks to you for your book "How to Promote Your Music Successfully on the Internet." In minutes, it answered questions I'd had for weeks...I figure you have saved me months if not years of trial and error." - John Edmonds

"I am an experienced web surfer...but I never could have imagined that so much more existed out there than what I already knew. I made so much progress after reading it in the ensuing week that I think that the book saved me at least 6 months of toil and trouble on the web." - Spike Spencer

"I am absolutely loving 'How to Promote Your Music Successfully on the Internet!" I've been looking for exactly the information that you have provided me with, and would have gladly have paid 10 times what I did for it! I haven't been able to stop reading it all night!" - Tim White


I've poured my heart and soul into this book, not only for you, but for myself. How to Promote Your Music Successfully on the Internet is, in a very real way, a process I've used to write down and archive everything I've ever learned.

Questions?
If you have any about this book or the order process before you buy, please feel free to write me and ask! Yes, I'm a real person, and I'm a click away.

Yes, It's Guaranteed!
If for ANY reason you are unsatisfied with the book, you may return it for a full refund! But check this out! In its twelve years of publication, after tens of thousands of sales, I've only had four copies returned. That's a pretty good track record!

Don't Miss Out!
For just twenty dollars, you'll have all the information you need to promote your music online the right way. No more wasted time and energy! No more guesswork! You'll have a workable plan laid out before you.

A Quick Summary...
Among many other things, my book will show you...

Where to begin when you have nothing. How to start from scratch!
How to build a web site designed to maximize CD sales and downloads.
How to put music online and offer it for streaming or download. The technical stuff made easy!
How to take credit card orders from your site - in just 15 minutes!
How to optimize your web site for search engines (without the hype)
How to register your web site with the search engines (without paying a dime!)
How and where to target customers most likely to buy your music, and drive them to your web site.
How to build a street team of fans, put them to work for you, and keep them energized!
How to enlist your fans to help you sell your music!
How to write your press release and where to send it online to make an impact.
How to write blogs and articles that will target new listeners and potential new customers.
Proven strategies for selling music online. Great ideas just waiting to happen!
How to turn casual web site visitors into buying customers.
How to build and maintain a mailing list that will bring you business for years to come!
How to get your music onto podcasts as well as hundreds of Internet radio stations.
How to launch your own Internet radio station and use it to attract tens of thousands of new fans!
How to make sure you're getting all the royalties coming to you from Internet radio play!
How to make the most out of Facebook, Twitter and social networking (without the usual hype).
How to create and market videos that will enhance your exposure and promote sales.
How to use the Internet to get gigs, book your own tour and become your own tour manager.
13 things you can do right now to increase your music sales.
The absolute best places to promote, sell and distribute your music online. Very detailed.
What NOT to waste your time and money on! Learn from my mistakes.
How to use advertising to pump cash into your music career. A little success can go a long way.
....and a HUGE directory of proven resources to help you take you to the next level.

PLUS Four Bonus Articles...
1) How to Copyright Your Music - It's easier than you think!
2) The "Secret" to Selling LOTS of Music!
3) Be an "American Idol" - One House at a Time!
4) Can You Help? And Please, No HYPE!

These are just a few of the topics covered in How to Promote Your Music Successfully on the Internet.

Order Options...
You can order the book by Credit Card or PayPal for just $19.95 and instantly download the book after you purchase! The book is in PDF format.

I Respect Your Privacy!
All the information you provide during the online order process is completely confidential. I won't give your information out to anyone! Not only that, I won't call you or email you or contact you in any way unless I need specific information to fulfill your order. But aside from that, you're not signing up for any mailing list when you buy my book! If you want to subscribe to the Music Biz Academy newsletter, you can do so here. But that's a whole different process.

Your Information is Safe and Secure!
When you provide us with any personal information including your name, address, e-mail and credit card number, it is processed over a secure connection on secure servers. We use Secure Socket Layers (SSL) to encrypt all information you provide before sending it to our servers. SSL is the industry standard and the best software available to ensure secure transactions.
Reviews by the Experts...
"Sometimes, every great once in a while, a book comes along and just takes you by surprise. What you expect to be a mundane, albeit educational experience can make you sit up and take notice if you're not careful. This was the case when I read "How to Promote Your Music Successfully on the Internet" by David Nevue. Attention indie artists – if you don't know how to promote your music on the Internet, this is the book for you. For those of you who think you know how to promote your music on the Internet, get this book anyway – I promise you'll learn things you did not know."
- Michele Wilson-Morris, MusicDish

"Author David Nevue has created a direct and easy to understand roadmap for marketing your music on the world wide web. This book contains fundamentals that major artists, as well as those on independent labels, should read and absorb....David goes to the heart of the matter: Music Marketing Strategies That Bring Results!...It is a very well rounded catalogue of ideas, and the serious musician will find it an excellent starting point. Nevue's practical guide will get you thinking beyond the immediate gratification of hearing your song played a few times on Internet radio, to the more substantial art of selling records via the Internet."
- Joe Viglione, for AllMusic.com

"The #1 thing that impresses me about this book? I found the publication very easy to read. David takes you into the world of cyberspace right from the beginning - telling you what you'll need to get started, information on web hosting, domain names, what tools you can use to start making your own killer site - and takes you through to the end where he talks about how to get targeted viewers for your completed web site, how to use your offline material to promote your online presence, etc. The Quick Reference guide at the back of the book would be worth the price of the publication itself, all on its own. In short, I will definitely be using this as a reference myself."
- Jodi Krangle, for The Muse's Muse

"Coming across the 'musicbizacademy.com' website was one big find, but once there, finding their excellent study on selling and promoting music on the Internet was the best discovery of the year. As far as I know no one has such an up-to-date and accurate description of what it takes to be a cyber marketing expert. The best money I ever spent!"
- Christopher Knab - FourFront Media and Music

"David Nevue has clearly spent a lot of time over the years marketing his music on the Internet. In How to Promote Your Music Successfully on the Internet, he shares what he has learned. The result is the finest book on Internet marketing I have read so far....If you're interested in promoting your music online, or you have tried to but with limited results, by all means buy this book. You won't find any "get rich quick" schemes here. Nevue's methods require plenty of time and effort. What you will find in abundance is useful and - better yet - tested advice."
- Steve Moss, for Tunesmith Monthly

"Almost immediately (the first page after the Table Of Contents) we see the question 'Will You Make Millions?' The answer following the question is refreshing in this jaded world of get-rich-quick-schemes and scams . . . 'The Internet is not a shortcut to success, it's simply another tool, and one that can be very effective in the hands of someone who knows how to use it.' The author is up-front with the reality of Internet self-promotion and that is commendable. The rest of the book is filled with very useful information, including current links to the various tools and research that is used. I tested every single link in the book and every one was exactly what the author said it was. This, in itself, is quite unusual and again, commendable....I will give my personal guarantee that if you follow the plan this book lays down, you will do exactly as the title indicates and successfully promote your music on the Internet. I heartily endorse this book as the best manual on Internet self-promotion that I've read to date."
- Jef Peace, for Peacework Music

"It gets two big thumbs up!...If you want to put your music on the Internet and sell CDs you're going to need great advice, application and dedication....that's where David Nevue's book 'How to successfully promote your music on the Internet' comes in. This spiral-bound tome will set you straight and provide you with a lot of the basic techniques needed to set up band website, promote it and sell CDs. Sure, you have to add the sweat and the toil, but you really won't pick up the information and advice contained in this book in an afternoon's surfing on a few websites. There are years of experience and lessons contained within the chapters of the book. Take notice of them. As the author says himself, making a dollar out of putting your music on the web takes a lot of effort and dedication. And I can promise you that he's telling the truth.
- Geoff Nicholson, for Shareware Music Machine

"David Nevue has taken his years of music Internet marketing experience and put together a fantastic resource in "How to Promote Your Music Successfully on the Internet." The book has some brilliant tips I've missed: Newscasting, cross-selling strategies, contests and sweepstakes (something I implemented on my band's website after reading this book, I have nearly 200 new newsletter subscribers in one months time), referrals, collaborations, coupons, newsletters, press releases, samplers... Man, the book is packed! David has compiled more than a "Guide to Effective Music Promotion". He's compiled a book on innovative music marketing, the most up-to-date resource available for promoting your band. Order it. You'll see."
- Marc Gunn, for The Bards Crier


The Table of Contents in Detail....

First Things First - Stuff to Read Before You Start Exploring
A Brief History • Will You Make Millions? • Getting Signed • But Will it Really Work for ME? • How to Use This Book Effectively
Getting Started: Where to Begin When You Have Nothing!
What You Need, What it Costs, and How to Get by with Less! • The 'Right' Computer System • A Fast Internet Service Provider • Just Browsing • Finding the Perfect Web Host • The Pros and Cons of 'Free' Web Hosts • Claim Your Domain • FTP Client Recommendations • Email: Your New Best Friend
Planning Your Web Site - Inspiration, Creation and Consideration
Design Considerations for the Design-Challenged! • Web Site 'Design by Template' • Blogging Your Web Site • Curing the Common Code: How to Build a Web Site Without Being Nerdy • How to Jump Start Your Web Site Design • How Much is Too Much? • How to Make Your Site 'Live' • If it Doesn't Flow, Hire a Pro • Are You Inspired? How to Find Ideas for Your Web Site Design • Planning Your Online Press Kit • Advanced Web Design Considerations • Flash! Oops, They're Gone • Death to Frames! • Long Live SSI! • Web Counters: The Pros and Cons • Scripts, Forms, Search, Chat, Guestbooks & More • Anti-Spam Your Web Site • Web Site Maintenance
Sound Solutions - The Technical Stuff Made Easy!
How to Turn Web Site Visitors into Music Listeners • MP3: The Standard for CyberSound • Creating MP3s using Windows Media Player • Creating MP3s using iTunes • Creating Short Audio Clips • Uploading Your Files • Optimizing Your MP3 File Names • Download or Stream? • Who's "Stealing" Your Music? • Embedding Music in Flash • A Reality Check About Selling Online • Selling Digital Music Downloads • Recommended Audio Tools
Take Credit Card Orders From Your Web Site - in 15 Minutes!
Making the Sale, Taking the Cash! • Accepting Credit Cards in 15 Minutes or Less • The Redirect Approach • When Sales Exceed $100/Month • When Sales Exceed $500/Month • Your Shopping Cart - One Easy, Inexpensive Solution • Your Merchant Account - Technology Overview • What About PayPal? • Selling Digital Music Downloads
Optimizing Your Site for Search Engines - A Step-By-Step Guide
Preparing Your Web Site for the Search Engines • Designing Pages Around Keywords and Phrases • Creepy Crawlies: Bait for the Spider • Your Page Title Says it All • Your Web Site Relevancy • Just a Popularity Contest? • Helping Spiders! • Killing Spiders! • Meta Tags: Much Ado About Pretty Much Nothing • A Keyword to the Wise • The 'Spam'-ish Inquisition • More Meta Tag Tips • Location, Location, Location • Other Somewhat Useful Tips • Tagging Your Images • Heading Tags • Link Text: Get Specific • The Exclusion Clause • Optimization Summary
Search Engine Submission - How to Put Yourself on the Internet Map!
Search Engines - The Changing Landscape • Should You Hire a Search Engine Professional? • Yes, Virginia, it Really is That Easy • The Search Engines That Really Matter • Testing and Resubmitting Your Keywords • Should You Pay for Position? • Recommended Reading
Targeting Your Customers to the Max!
Pick Your Target and Aim Carefully! • Voices from the Past • Developing Relationships in Cyberspace • Making Use of the Microphone • Put Your Fans to Work! • Targeting New Customers • Taking Aim at Social Media Circles, Groups, Chat Rooms and Forums • Targeting by Site • Divide and Conquer! • Isn't it Nice to Share? • Targeted Link Partnerships • Spy vs. Spy: See Who's Talking About You • Maintaining the Sales Machine • Get the Hits That Really Count!
The Power of Words: What You Know Can Sell Your Music
Do You Have the Write Stuff? • Targeting by Topic: A Blog Well Done • Blogging Basics: How to Get Started • Why Blog? How One Artist Made $3,000/Month in Music Sales by Blogging • 20 Steps to Creating a Successful Blog for Your Band • How and Where to Promote Your Blog
Social Media: Marketing Your Life
Taking Aim at Social Media Circles • Putting Spin on the Social Circle of Life • Social Media: A Lesson in Self-Defense • Audio and Video Blogging • How to Make Your Video • Promoting, Marketing and Distributing Your Video
Your Internet Press Release - How to Write It and Where to Send It!
Making Noise About Your Web Site! • Pay-for-Promotion Services • How to Write a Press Release
Proven Strategies for Selling Your Music
How to Turn Your Visitors Into Dollars • Limit Your Visitor's Options • Music to Their Ears • Win Free Music! • The "Best Of / Music Sampler" Effect • The One-Two Punch: Combining Samplers and Coupons • The "Toss-In" • Have I Got a Deal for You • Free Shipping! • Free Bonus Offer! • Fear is the Mind-Killer (and a Sales Killer too!) • "Can We Talk?" • Damaged Goods or Best Buys? • Turn Your Visitors Into Long-Term Customers • Get Friendly! • Making Your Fans Your Closest Allies
How to Build a Powerful (and Effective!) Mailing List
Mass Mailing in a Social Media Age? • Tools of the Trade • Email Confirmations = Missed Opportunities • 13 Rules for Sending Successful Emails/Newsletters to Your Fans
Royalties: Getting What's Coming to You
13 Things to Do Right Now to Improve Your Internet Sales!

The Best Places to Promote, Sell, and Distribute Your Music Online
Targeting through Product Placement • A Thousand Points of Light • Setting Up Shop • The Top 12 Places to Promote, Sell and Distribute Your Music • iTunes, Amazon.com, Pandora, CD Baby, YouTube, Facebook, Twitter, Live365 and others)
Internet Radio: Tuning In to More Exposure
Clearly a Monopoly • Where to Find Independent Broadcasters • Setting Up Your Own Radio Station • How I Play to a Million People a Month • The Cost of Growing Your Broadcast • Paying Royalties: The Financial Reality • Podcasting: Jumping on the Audio Bandwagon • A Happy Hollywood Ending
Beyond Cyberspace: Using the Internet to Get Gigs
Crossing Over: From The Internet to the Stage • House Concerts: Small Audience, Big Profits! • Sharing the Gig, Finding Venues, Making the Rounds • Managing Your Travel Budget
How to Use Advertising to Pump Cash Into Your Music Career!
Secrets to Creating Cash With Advertising and Affiliate Programs • Bonus Checks for Great Performance! • Less is More • Pay-Per-Click, Thousand, or Commission? • Banner Advertising: Everything You Need to Know • Affiliate Programs • Two Secrets to Successful Advertising
Bonus Articles for Extra Credit…

Bonus Article #1: How to Copyright Your Music
Why Copyright Your Music? • How to Register Your Copyright • How Your Registered Copyright Benefits You • Creative Commons • International Copyright
Bonus Article #2: The "Secret" to Selling Lots of Music
My Biggest Payout Ever for Digital Distribution • Why People Buy Music • It's All About the Music • Love at First Listen
Bonus Article #3: Be An "American Idol," One House at a Time
You Talk, You Share, You Play • Don't Scoff at the Size of the Audience • More than Just Money • Fill Those Empty Nights
Bonus Article #4: Can You Help? And Please, No HYPE!
Internet Resources for the Independent Musician!
Quick Reference Guide
Final Words
Making the Intangible Tangible

---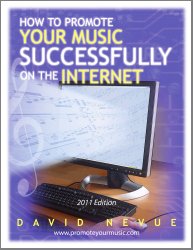 Order Now!
Do you have any questions about this book or the order process before you buy? We're glad to help! Just Ask!

PDF eBook w/ clickable links!
Purchase and Download Now for $19.95!
Buy Now | View Cart

Printed Book
Now available via Amazon.com