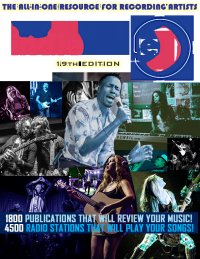 Order Now!

Electronic Book (*PDF)
Instant Download for $35.95!
Save shipping costs!
Download: Buy Now
View Cart



The 2017 Indie Bible - 18th Edition
by David Wimble

The 2017 Edition Now on Sale!
Regularly priced at $39.95! 10% Discount just for shopping here!
$35.95 (PDF - Instant Download! Save Shipping Costs!)

Do you have any questions about this book or the order process before you buy? We're glad to help! Just Ask!


---
The Indie Bible shows you where to get your music reviewed, your songs played, and your music sold and distributed. Now in it's 18th edition, The Indie Bible contains over a thousand pages filled with contacts and music-related articles.
---
A Message from David Nevue, founder of
the Music Biz Academy...

As my readers know, I don't just promote any book here at the Academy. I'm a musician just like you, and I absolutely refuse to waste my (or anyone else's) time or money sorting through useless information.

The Indie Bible, however, is truly special. I've been a fan of it since its very first edition. I can hardly believe how incredibly complete it is, and with every new edition, it just gets better and better. Simply put, it's the only book of contacts you'll need.

The Indie Bible was born out of the frustration that its publisher, David Wimble, experienced when he attempted to find places to promote his first CD. "What I needed was an up-to-date list of radio stations and publications that were willing to accept independent music, but there was no such list to be found. So I put one together myself and decided to share my research with others," he says.

What's really great about the Indie Bible is that every business that's listed in there has asked to be. In other words, the Indie Bible is more than just a book of contacts, it's a book of contacts who want to be contacted - by YOU! Whether you need radio promotion, reviews for your CD, or just help promoting your music, you'll find enough information in the Indie Bible to keep you busy for a long, long time!

Get the contacts you've been looking for! Read this book.


---
Get Your Music in the Right Hands!
It's no secret that the Internet is a great way to get your music out to the world. There's only one problem. The Internet is so big it would literally take you THOUSANDS of hours to find all of the places and people that are interested in your music and are willing to help you and your band out. A solution is finally here. It's called The Indie Bible.

The Indie Bible will show you where to promote your music, regardless of your musical style, and save you MONTHS of valuable time!

This 18th edition contains thousands of contacts, including:

7000 radio stations, music blogs and magazines that want to showcase your music! 1800 labels, distributors and online music vendors from around the globe!
66 articles that will help your career to MOVE forward rapidly!


How it Can Help Your Career...
There are 16 SECTIONS in the Indie Bible. Each SECTION covers an important area of music promotion and is sorted by GENRE and GEOGRAPHIC location.
The SECTIONS are as follows:
1. Music Reviewers (magazines, online websites, music blogs)
2. Local Music Resources (alternative weeklies, local websites and music blogs)
3. Radio Promoters
4. Radio Stations that play independent music (college, community, internet, podcasts)
5. Promotion and Marketing services
6. Management Services
7. Public Relations Services
8. Publicists
9. Independent Record Labels (includes major labels that accept unsolicited demos)
10. Online Music Vendors
11. Physical Music Distributors
12. Digital Music Distributors (will get your songs into iTunes, Spotify etc.)
13. Digital Music Stores
14. Social Media websites and Online Music Communities
15. Promotional tools and resources
16. 66 Articles written by industry experts

All Music Genres are Covered, Including....
Pop, Rock, Punk, Ska, Metal, Goth, Industrial, Experimental, Ambient, Electronic, Dance, Hip Hop, Jazz, Progressive Rock, Blues, Country, Bluegrass, Rockabilly, Folk,
World, and many more!
An International Resource!
The Indie Contact Bible is truly an International resource! Thousands of contacts in the U.S.A , plus contacts in Canada, the UK, Australia, Germany, Sweden, France, Italy, The Netherlands, South America, Asia, Mexico, Austria, Greece, Belgium, Malta, Spain, Portugal, Finland, Switzerland, Latvia, Romania, Hungary, Lithuania, Russia, South Africa and New Zealand.
Save Time, Money, and Energy!
Everything you need in terms of contact with reviewers and resources. Save yourself hundreds of hours of search time and frustration!
Get your copy now for just $35.95.
---
Electronic Book (*PDF)


10% Discount!

Download for $35.95. Save shipping costs!
Buy Now | View Cart

---
Please note that purchases will appear on your credit card as Midnight Rain Productions.
---