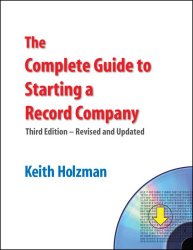 Order Now!

Electronic Book (*PDF)
Instant Download for just $19.95!
Save shipping costs!
Buy Now | View Cart


The Complete Guide
To Starting a Record Company
3rd Edition! 245 Pages
A Message from David Nevue,
The Founder of the Music Biz Academy...

I have been looking for a book like this for the Academy for a long time. A book on the process of starting a record label that is easy to read and yet smart at the same time. And finally, I have found it!

The Complete Guide to Starting a Record Company is written by Keith Holzman, a man who has spent over four decades in the music business. For two of those decades he was the Senior Vice President of Elektra records. Later he became director of Nonesuch Records and Managing Director and Executive Vice President of Discovery Records. My point is, Keith knows his stuff. And now he's penned this 245 page wonder of a book that takes you step by step through the process of starting up your own record company.

So if you have the gumption to start your own record label, you'll get a HUGE head start by having Keith's terrific manual at the ready.
"Keith Holzman has been an invaluable mentor
to my label and me for over twenty years. He has
finally put that knowledge and integrity into a book
that I still find to be indispensable as a road map
through the intricacies and complexity of the
business of music. This is a common sense
guide that could only be written by a true veteran.
I'll refer to mine often. - Bob Feldman, Former President,
Red House Records

---
Are You Thinking About Starting a Record Company?
Are you unhappy working for your current record label and want to create your own?
Do you need help with any or all of the necessary procedures required to take on such a task?
If you answered "YES" to any of the above here's the solution.

The Complete Guide to Starting a Record Company is a primer that takes you by the hand and guides you through the steps involved in building the independent record label of your dreams. It contains vital advice —retaining lawyers and accountants, what to include in your business plan, how to construct budgets, what to look for in an artist and how to sign one, the ins and outs of artist contracts, what to seek in a distributor, and how to develop a marketing plan that can market your music effectively. It's the essential guide to what you need to know and what you must do to start your own record company.

The book can be ordered as:
• A downloadable eBook in PDF Format for $19.95,
"The Complete Guide to Starting a Record Company advises you on writing your business plan, retaining lawyers and accountants, constructing budgets, finding and signing artists, and marketing and distributing your product. It explains staffing, licensing, pressing, printing, packaging, royalties, and promotion. This book provides the insight you need to understand the workings of any sized record label, and it's a bonanza of practical guidance for anyone attempting the D.I.Y. approach to record distribution. - Gino Robair, Senior Editor, Electronic Musician, August 2004

Table of Contents, with Information about each Chapter
1. Introduction: a brief background on the independent record business…asks questions you need to think about and answer honestly to help you decide what kind of label to build.
2. First Steps: what to look for in a lawyer and accountant…legal structure…suggested books on music business law…label naming…domain name and registration…logo and letterhead…UPC bar code.
3. The Business Plan: its purpose…what to include…what should be in the budget "numbers" section.
4. Raising Start-up Money: who to approach and how to raise capital.
5. The Art of Acquiring Talent: how to find artists and what to look for.
6. Understanding Artist Agreements: common, and not so common, deal points - setting up your artist contracts and understanding the provisions.

"There has never been a finer book written about starting a record label and operating successfully in the record business. I wish 'The Complete Guide...' had existed when Alison and I started Compass Records. We were still finding our way through some of these methods and strategies five years into the process! What a blessing it would have been." - Garry West, Compass Records

7. An Introduction to Music Publishing: why it's a good idea to become a music publisher…what it entails…music publishing rights.
8. Staffing Possibilities: essential staff for small, medium and large labels with typical "reporting" diagrams.
9. Setting Up Your Office: space…furniture…office equipment and services…computers…indispensable software.
10. Planning the First Recording Project: what to look for in a studio…the producer and engineer…how to budget a recording…includes a sample recording budget form.
11. Recording the First Project: a look at what happens during the recording, sequencing, and mastering process…ISRC codes.
"I LOVE Keith Holzman's new book....I only wish that I had it BEFORE I started our own indie label in the late 90's. Keith's book skips past the hype, smoke and mirrors of most industry books and arms you with the real information you need to set up a real label that will work and last; the kind that pays royalties, keeps books and sustains careers. Don't just buy it though, put it to use!" — Justin Goldberg, CEO, Indie 911, and author of "The Ultimate Survival Guide to the Music Industry: A Handbook to Hell

12. The Ins and Outs of Pre-Production: what to look for in pressing and printing plants…role of production and design people…packaging…how to keep track of all the details…what goes where on a typical package…manufacturing…inventory matters…mechanical licenses…includes production charts and calendar…bill of material and photo release forms.
13. The Lowdown on Distribution: what to look for and what to avoid when considering distributors, domestic and international…suggested deal points…production and distribution deals.
14. The Complexities of Marketing: how to construct a marketing plan and what should be included…marketing budgets…the role of sales, radio promotion, publicity, artist tours, advertising, video, street teams, and the web…timing of releases…artist development…the one-sheet.
15. Post-Production Basics: the many tasks to be done after a release is shipped…SR form…royalty accounting…protecting masters.
16. Follow-up Marketing: staying on top of marketing…artist tours and in-store performances.
17. Ancillary Income: the many ways to make additional income by getting the most out of your efforts…licensing…publishing…non-traditional retail…compilations…AARC…Sound Exchange™.
18. It's a Wrap — planning future releases…crisis management…possible exit strategy.
19. Recommended Reading: extensive list of some of the best books and publications on the music industry, and business in general.

The book includes many specially constructed charts, forms, checklists, and summaries, a complete index, plus more than 100 useful resources, agencies, and businesses, with URLs.
"Holzman's book offers one of the best and most detailed explications of the "conventional wisdom" of planning, financing, recording, producing, marketing and distributing your own discs. His Guide is more thorough than many similar publications on the market at the moment…. Holzman includes brief but valuable suggestions about websites, on-line retailing, e-mail marketing, and downloadable music. The bulk of his Guide, however, deals with the more mundane but tremendously important legal and business savvy required to really make a go of it on your own…. For anyone considering taking the plunge into CD commerce, investing in Holzman's Guide will be money well spent. - John Michel, American Composers Forum Sounding Board, May/June 2004mple
Bonus Offer!
When you buy this book from The Music Biz Academy, Keith with throw in his white paper called Ten Common Mistakes Independent Record Labels Frequently Make. Keith with email you the paper as soon as he receives notification of your order.

The book can be ordered as:
• A downloadable eBook in PDF Format for $19.95

Do you have any questions about this book or the order process before you buy? We're glad to help! Just Ask!

---
Please note that purchases will appear on your credit card as Midnight Rain Productions.
---