Can You Make 6-Figures With Your Music?
by Mike Grebb.

This article first appeared in The Musician's Atlas' March 2006 Atlas Plugged Newsletter and is used by permission. The Musician's Atlas is a fantastic resource for musicians, containing over 30,000 music business contacts.


---
Back to The Academy

---
What is the definition of success in today's music marketplace? Last century, a label deal, stretch limos and contract riders demanding blue m&ms were some of the sure signs that you had arrived. But with a music industry currently in flux and moving warp speed ahead, success now comes in many different flavors. The most common answer we hear is "making my living making my music". No matter what your definition of success is, chances are this month's featured industry guru, Daylle Deanna Schwartz, can help you maximize your goals.
You may have noticed that we like to speak with artists, industry leaders and other insiders that really have something to say on the topics we cover- experts that can add insights based on actual experience. That's why we really dig speaking to author/consultant, Daylle Deanna Schwartz.
Schwartz goes out and really talks to people. Lots of people. Her books are chock full of advice and case studies culled from real artists, labels and other industry players.
Schwartz' past books include "The Real Deal: How to Get Signed to Record Label" and "Start & Run Your Own Record Label." In her latest title, Schwartz tackles the subject of artist success from an entirely different angle. "I Don't Need A Record Deal!" actually explores how artists can make a living without groveling to A&R guys at major or even indie labels.
In fact, Schwartz posits that the tools now available to musicians are unprecedented. After speaking to more than 150 artists and music professionals, she puts forth a rather simple proposition: Artists who are willing to perfect their art, work hard on the "business side," seize opportunities (i.e., ask for things rather than wait for them to happen) and just stay positive and professional can succeed without the help of a record label. She makes a pretty compelling case that just about anyone who is willing to put forth the effort can make it in the modern music industry.
Even artists who are seeking a record deal, Schwartz says, can't simply wait around to be "discovered." If that was ever the norm, it isn't any more. Most labels don't seek out raw talent these days. Sure, talent is a prerequisite (well, usually it is). But they're primarily seeking out buzz and fanbases-something they can market without starting from scratch. In other words, they seek out artists who have built a mini-empire with their blood, sweat and tears and want to go to the next level. "The only way to get a record deal is to develop yourself, practice your performance... and then the labels come to you," she says.
For artists who are happy to remain on their own, Schwartz provides a treasure trove of advice about how to find the tools to make it happen. And she interviews dozens and dozens of DIY artists, some of whom make six-figure incomes as full-time music professionals (and without a label looking over their shoulders). Many of the artists she interviews have turned down label offers despite promises of greater fame or increased exposure.
With insights provided by touring talent, "I Don't Need A Record Deal!" covers everything from the nuts and bolts of marketing and promotion, to how to sooth the vocal chords while on tour (run the shower with the bathroom door open so it will humidify the hotel room), to street marketing and building an online buzz, to going beyond the club circuit and CD sales to generate income. "You want to create as many revenue streams as you can," advises Schwartz.
She stresses that artists don't have sell out in order to make a living. But mixing a bit of the high-paying, high-profile gigs with those less glamorous $50 opportunities may be a wise strategy. "You have to take it as seriously as a day job," she says. That includes things that seem "beneath" many artists, including playing cover shows or even weddings and Bar Mitzvahs. "What part of good money affects you so badly?," she asks, noting that someone at the event could become a fan or hire an artist for another event. "If you're singing at weddings, you're getting exposure," she says. "You're playing for someone who might hire you in the future." Trying to make it by limiting yourself to playing dingy clubs for peanuts may fulfill some kind of tortured-artist dream-but it seldom pays all the bills and can even lead to premature bitterness and surrender, she says.
Throughout the book, Schwartz recounts example after example of indie artists who have plenty of street cred but sustain themselves by singing jingles, doing session work, licensing music to or composing for TV commercials or corporate videos, or even licensing songs to unlikely places, such as the music that plays on voice mail systems. "Start paying attention everywhere you go," she says. "When you hear music, someone is getting paid. Why not you?" Schwartz even walks you through licensing terminology like "bumpers," "vamps" and "prevamps." Don't know what those are? Check out page 204.
And did you know where to find contact info for music production houses, which pay big bucks for people to compose music for TV commercials and other advertising? It's in the book. How about contacting AEI Music Network, which licenses music to airlines and retail stores? Or approaching small local businesses to see if they need music for a TV commercial or the customer voice mail system? It's that kind of thinking outside the box that can create revenue opportunities and help sustain your art. As Schwartz states in the book, your day job might as well have something to do with music. Some artists sustain themselves by teaching music to others or getting involved in writing workshops. Given a choice between waiting tables or singing jingles, which do you think will help your music career more?
Schwartz also covers touring strategies that go beyond the traditional club route. Artists these days can play house concerts, hospitals, schools... you name it. And have you thought about international markets? Cruise ships? Military tours? The opportunities are out there; all you have to do is seek them.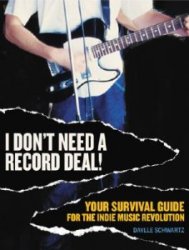 All artists are different. Those who want to suffer endlessly for their art may not want to read Schwartz' book. But for those who want to make a living at music, "I Don't Need A Record Deal" is a well-researched user's guide packed full of real-world case studies and advice. Record deals can be a wonderful thing when the stars align. But Schwartz told me something during our interview that stuck with me. "I'm not against record deals," she said. "I'm against being desperate for a record deal." Hear, hear.

--
(Mike Grebb is a writer, journalist and singer/songwriter based in Washington, D.C. He has written for numerous publications, including Wired and Billboard. His debut solo record, Resolution, is available at www.mikegrebb.com, as well as digitally on iTunes, MSN Music, Musicmatch, Yahoo! Music Unlimited and other sites. You can also be his friend on MySpace!) .