Talent Agents, Agencies
Booking Agents & Publicists
Directory of talent agencies, booking agents, entertainment lawyers, and song / CD shopping services.

Don't miss our featured book:

How To Promote Your Music
Successfully on the Internet!
Learn how a musician just like you used the Internet to quit his day job and spend more time on his music!

---
Back to The Musician's Directory

---
Talent Agents, Booking Agents & Publicists
Listed alphabetically...

Ariel Publicity
If youíre struggling in your effort to generate publicity for yourself or your band, stop by Arielís place and see what she can do for you. Arielís web site and credentials are most impressive. The list of bands sheís worked with is as long as your arm and includes some big name acts. In addition to her PR services, be sure to visit her excellent SoundAdvice blog. Updated 10/07/2010.

Buzzplant
Buzzplant is an Internet marketing and promotion company focused on the Christian Music industry. It makes use of grassroots promotion as well as partnerships with Christian and music marketing web sites to promote its clients via the web, social networking, mobile marketing, viral video marketing, publicity and more. The emphasis at Buzzplant is to invest in developing relationships with potential buyers and then offering them the music they are looking for. Clients include some huge names; Sonic Flood, Delirious, John Tesh, Mercy Me, Michael Card, Ginny Owens, Charlie Peacock and many others. Visit the web site for examples of current promotions and case studies. Updated 10/07/2010.

Concerts in Your Home
There's nothing quite like a house concert - especially as a performer. They're simple to play, easy to set up, and the intimate setting makes an audience very enthusiastic about your music. "Concerts in Your Home" is a place you can go to find local house concert venues, or venues in areas where you'll be touring. House concert hosts are always looking for new talent to bring in, and unlike many venues, they're just normal folks who like good music. Check out the site to sign up as a house concert performer or to browse the house concert host listings. Membership is $148/year. Updated 10/07/2010.

Evolution Promotion
Sting, R.E.M., Steward Copeland, Jane Siberry - these are just a few of the many artists who have made use of one of the many services provided by Evolution Promotion. Services include radio promotion, tour promotion, film and TV music placement, direct consumer marketing, Internet radio and marketing, web design and consulting. The Evolution Promotion team creates custom campaigns for clients designed to achieve breakthrough success at radio, on the net and in the market place. The founder of Evolution, Karen Lee, was a national promoter for Elektra and IRS Records, where she promoted The Cars, Motley Crue, Metallica, 10,000 Maniacs, The GoGo's, Concrete Blonde, and others. Need a promoter? Get one with experience. Here's one place to start. Updated 10/07/2010.

Foley Entertainment
Dr. Eugene Foley of Foley Entertainment offers numerous services for musicians, including consulting, CD shopping, marketing and promotion. Foley's clients have contributed to projects involving most of the major record labels and his clients have earned dozens of gold and platinum records as well as three Grammy awards. Foley has contributed to music-related features on NBC, MTV, VH-1, PBS, Fox and others. The company is licensed and a member of the Better Business Bureau. We worked with Foley Entertainment several years ago and it was a very pleasant experience. Check out the 'endorsements' for a few examples of his contacts. U pdated 10/07/2010.

Goodnight Kiss Music
Songwriters, check out Goodnight Kiss Music, a music publisher based in Hollywood, California. GKM specializes in placing songs within the film, television, and recording industry and they have a very impressive list of credits. Goodknight Kiss is open to considering material from unknown songwriters for their projects, but they do have a strict list of requirements for submissions. Interested songwriters should check the web site to see what they are currently working on, and then contact them directly before submitting any material. A subscription based newsletter is also available which outlines their current projects. Check out their excellent Song Critique Checklist. Updated 10/07/2010.

Holland America Entertainment
Get a job on a cruise ship! Holland America Entertainment books showbands, string ensembles, lounge bands and pianists to entertain their guests. Once you get the job, the provide some great benefits including medical covers, deck meals and accomodations and free cruises. Contracts are generally 3-6 months in length. Updated 10/07/2010.

Moxie Star: Music Publicity, Marketing and Management
Moxie Star creates customized PR programs that position their clients in the marketplace and help establish their identity among target audiences. Services provided include press release writing and distribution, CD review solicitation, interview/feature solicitation, Internet promotion, tour press, CD release campaigns and more. Updated 10/07/2010.

Music SUBMIT
Music SUBMIT is a service that, once you sign up, will match your music to genre-related blogs, Internet radio stations, web resources, online music magazines and podcasts and submit your music and information to them in a bulk email blast. It's a nice, clean way to instantly publicize your music to a large number of people who might potentially be interested in you. ou can pay for one bulk submission (starting at $34.95) or opt for a monthly approach, where your music is submitted to 25 or 50 resources a month. Updated 10/07/2010.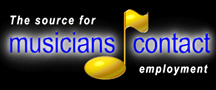 MusiciansContact.com
Over the past 30 years, managers, record company personnel, producers, booking agents, employers and production companies have used Musicians Contact to locate replacement musicians and singers. Complete acts and solo artists are also offered to these same talent seekers. Clients using Musicians Contact seeking fill-in musicians include such big names as Glen Frey, Tom Waits, Warrant, Dishwalla, Herbie Hancock, Neil Diamond, Ozzy Ozbourne, Billy Joel, and others. Sound too good to be true? Check out their testimonials. Available to independent musicians for a small subscription fee. Updated 10/07/2010.

Oceanbound Entertainment
Want a job playing music on a cruise ship? Oceanbound Entertainment Inc. is looking for solo musicians, 2 to 4 piece bands, string ensembles, individual musicians to be a part of the ships orchestra, and variety entertainers such as jugglers, magicians, comedians, instrumentalists and singers. Don't miss Oceanbound's informative podcasts about being
an artist on a cruise ship. Visit the website for more details. Updated 10/07/2010.

Proship Entertainment
Are you a musician looking for some adventure? If so, Proship Entertainment might be just the "boat" you're looking for. Proship provides entertainment for over 50 luxury cruise ships - with each crew ship able to accomodate up to six or seven bands at a time. Proship is looking for a variety of musical styles to entertain their guests. There are a number of "perks;" You'll get to visit exotic locations (Hawaii, the Caribbean, Alaska...), and all airfare, accomodations, and on-board meals are paid for by the cruise line. Proship provides work year round, and all contracts run from 1- 6 months. Updated 10/07/2010

Pump Audio
If you're in the market to license your music to TV, film, video games or other advertisers, check out Pump Audio. With your permission, Pump Audio will include your music in their database for promotion and possible licensing to their clients. You keep all copyright, ownership and publishing rights, and receive 35% of the licensing fees billed to their production clients if your music is used. There's NO submission fee, it's non-exclusive, and you retain 100% ownership of your songs. Based on feedback we've heard from artists, this is one of the best, most effective song licensing agencies around. However, the turnaround time to receive a response from your initial submission is quite long. Even so, well worth investigating. See also, Radio and TV. Updated 10/07/2010.